Custom Search
| | | |
| --- | --- | --- |
| | Why Orbitals Hybridization | |
Back to VSEPR
link to ==>Determining Hybridization in Lewis Dot Structure
Why do orbitals hybridize?
I like refer to this a socialism of the orbitals. The energy of the 4 orbitals are combined and redistributed to make them all equal energy orbitals now referred to a sp3. It was formed by 1 s and 3 p orbitals, hence sp3. In the example below, carbon can now form 4 equal bonds with hydrogen.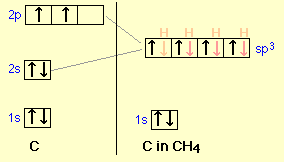 Below is an sp2 hybridization. An s and 2 p orbitals are combined and redistributed.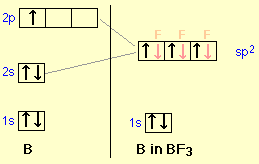 Note one of the p orbitals (which should be shown) has not changed, while the 2s and 2 of the 2p's have hybridized.

sp Hybridization requires an s and a p orbital to hybridize leaving 2p orbitals at the original energy.
link to ==>Determining Hybridization in Lewis Dot Structure
Back to VSEPR