Base your answers to questions 62 through 65 on the information below and on your knowledge of chemistry.
One fission reaction for U-235 is represented by the balanced nuclear equation below.
Both radioisotopes produced by this fission reaction undergo beta decay. The half-life of Xe-140 is 13.6 seconds and the half-life of Sr-94 is 1.25 minutes.
62 Explain, in terms of both reactants and products, why the reaction represented by the nuclear equation is a fission reaction. [1]
Answer--> One large atom split into smaller atoms.
63 Complete the equation in your answer booklet for the decay of Xe-140 by writing a notation for the missing product. [1]

64 Determine the time required for an original 24.0-gram sample of Sr-94 to decay until only 1.5 grams of the sample remains unchanged. [1]
Answer--> 5.00 min

Use table N.....Work not required

24.0g--> 12.0g--> 6.0g-->3.0g-->1.5g

4 half lives x 1.25 min=5.00 min
65 On the diagram in your answer booklet, draw an arrow to represent the path of an emitted beta particle in the electric field between two oppositely charged metal plates. [1]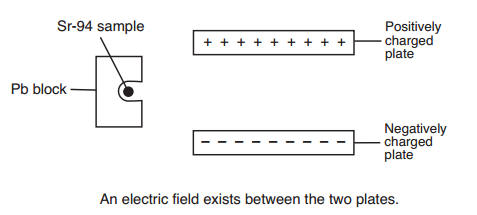 on to
Questions 66-68