Base your answers to questions 73 through 74 on the information below and on your knowledge of chemistry.
Coal is a fuel consisting primarily of carbon. In an open system, the carbon that burns completely in air produces carbon dioxide and heat. This reaction is represented by the balanced equation below.
C(s) + O2(g) → CO2(g) + heat
73 In your answer booklet, use the key to draw at least five particles in the box to represent the phase of the product. [1]

74 On the potential energy diagram in your answer booklet, draw a double-headed arrow (↕

) to indicate the interval that represents the heat of reaction. [1]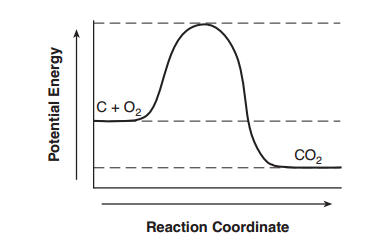 on to Questions 75-76