A student used blue litmus paper and phenolphthalein paper as indicators to test the pH of distilled water and five aqueous household solutions. Then the student used a pH meter to measure the pH of the distilled water and each solution. The results of the studentís work are recorded in the table below.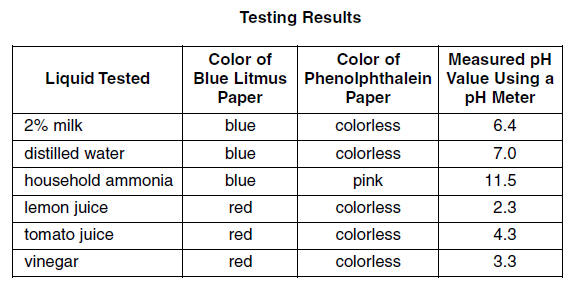 65 Identify the liquid tested that has the lowest hydronium ion concentration. [1]
HIGHLIGHT TO SEE THE ANSWER
household ammonia or NH

3(aq)

(The base, highest pH)
66 Explain, in terms of the pH range for color change on Reference Table M, why litmus is not appropriate to differentiate the acidity levels of tomato juice and vinegar. [1]
HIGHLIGHT TO SEE THE ANSWER
Litmus is red for all pH values below 5.5.
67 Based on the measured pH values, identify the liquid tested that is 10 times more acidic than vinegar. [1]
HIGHLIGHT TO SEE THE ANSWER
lemon juice
There is one zero in 10, so the pH is more acidic (a lower pH) by 1 pH unit.