Base your answers to questions 79 through 82 on the information below.

A student prepares two 141-gram mixtures, A and B. Each mixture consists of NH4Cl, sand, and H2O at 15°C. Both mixtures are thoroughly stirred and allowed to stand. The mass of each component used to make the mixtures is listed in the data table below.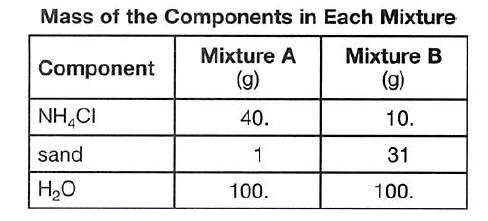 79 State evidence from the table indicating that the proportion of the components in a mixture can vary. [1]
Answer-->both mixtures have the same mass but different amounts of sand and NH4Cl
80 Which type of mixture is mixture B? [1]
81 Determine the temperature at which all of the NH4Clin mixture A dissolves to form a saturated solution. [1]
Answer-->any answer from 23 to 26 degrees C
82 Describe one property of sand that would enable the student to separate the sand from the other components in mixture B. [1]
Answer-->sand is insoluble in water and NH4Cl is soluble