The diagram below shows a system in which water is being decomposed into oxygen gas and hydrogen gas. Litmus is used as an indicator in the water. The litmus turns red in test tube 1 and blue in test tube 2.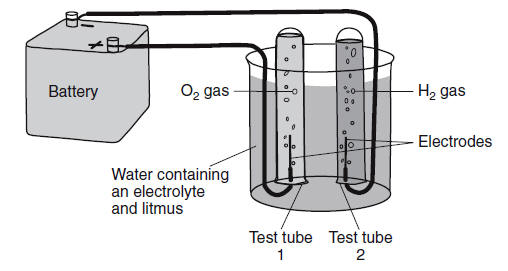 The oxidation and reduction occurring in the test tubes are represented by the balanced equations below.

82 Identify the information in the diagram that indicates this system is an electrolytic cell. [1]
HIGHLIGHT TO SEE THE ANSWER
A battery is part of the cell and is providing energy that causes the reaction.
Electricity is used to operate the cell.
83 Determine the change in oxidation number of oxygen during the reaction in test tube 1. [1]
HIGHLIGHT TO SEE THE ANSWER
84 Explain, in terms of the products formed in test tube 2, why litmus turns blue in test tube 2. [1]
HIGHLIGHT TO SEE THE ANSWER
Litmus turns blue when a sufficient amount of hydroxide ions are produced.

The reaction in test tube 2 produces OH

- ions that make this solution basic. Litmus is blue in a basic solution.