Base your answers to questions 62 through 65 on the information below and on your knowledge of chemistry.
An operating voltaic cell has zinc and iron electrodes. The cell and the unbalanced ionic equation representing the reaction that occurs in the cell are shown below.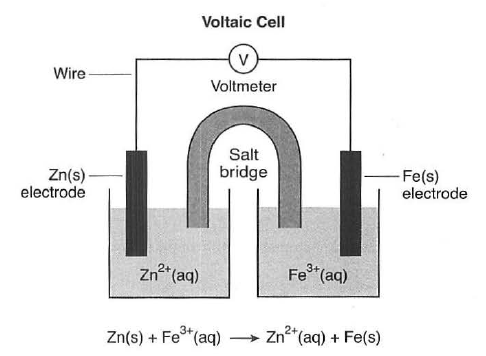 62 Identify the subatomic particles that flow through the wire as the cell operates. [I]
63 Balance the equation in your answer booklet for the redox reaction that occurs in this cell, using the smallest whole-number coefficients.
____Zn(s) + _____Fe3+(aq)==> ____Zn2+(aq) + ____Fe(s)
Answer--> __3__Zn(s) + __2__Fe3+(aq)==> __3__Zn2+(aq) + __2__Fe(s)
64 Identify one metal from table J that is more easily oxidized than Zn.
Answer-->a metal above Zn....Mn,Ti, Al, Mg, Na, Ca, Sr, Ba, Cs, K, Rb, Li
65 Explain, in terms of Zn atoms and Zn ions, why the mass of the Zn electrode decreases as the cell operates.
Answer--> the Zn atoms become Zn2+
on to Questions 66-69