The compounds NH4Br(s) and NH3(g) are soluble in water. Solubility data for NH4Br(s) in water are listed in the table below.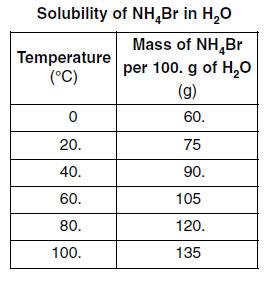 56 On the grid in your answer booklet, plot the data from the data table. Circle and connect the points. [1]
57 Determine the total mass of NH4Br(s) that must be dissolved in 200. grams of H2O at 60.°C to produce a saturated solution. [1]
HIGHLIGHT TO SEE THE ANSWER
210.g
at 60.°C, 100g of water hold 105g NH4Br, so 210g will dissolve in 200g of water
58 Compare the solubilities of NH4Br(s) and NH3(g), each in 100. grams of H2O, as temperature increases at standard pressure. Your response must include both NH4Br(s) and NH3(g). [1]
HIGHLIGHT TO SEE THE ANSWER
As temperature increases, the solubility of NH4Br(s) in H2O increases and the solubility of NH3(g) in H2O decreases.
NH4Br becomes more soluble and NH3 becomes less soluble.