In a laboratory, 0.100 mole of colorless hydrogen iodide gas at room temperature is placed in a 1.00-liter flask. The flask is sealed and warmed, causing the HI(g) to start decomposing to H2(g) and I2(g). Then the temperature of the contents of the flask is kept constant.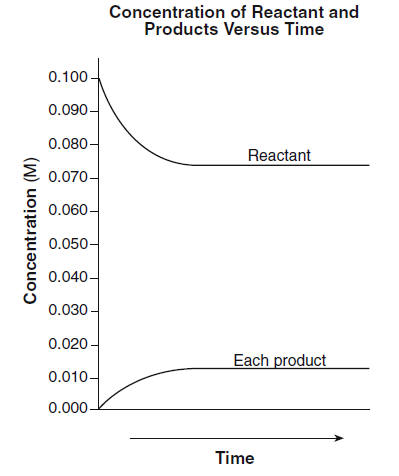 During this reaction, the contents of the flask change to a pale purple-colored mixture of HI(g), H2(g), and I2(g). When the color of the mixture in the flask stops changing, the concentration of I2(g) is determined to be 0.013 mole per liter. The relationship between concentration and time for the reactant and products is shown in the graph below.
69 Write a balanced equation to represent the decomposition reaction occurring in the flask. [1]
HIGHLIGHT TO SEE THE ANSWER
70 State, in terms of concentration, evidence that indicates the system in the flask has reached equilibrium. [1]
HIGHLIGHT TO SEE THE ANSWER
"concentrations are constant"
The concentration of each product and the concentration of the reactant remain the same.
71 Calculate the mass of I2(g) in the flask at equilibrium. Your response must include both a correct numerical setup and the calculated result. [2]
HIGHLIGHT TO SEE THE ANSWER
SET UP 126.905 × 2 = 253.810 g/mol
(0.013 M)(1.00 L)(253.810 g/mol)
mass = 0.013 × 254
ANSWER==>3.3 g