Underground iron pipes in contact with moist soil are likely to corrode. This corrosion can be prevented by applying the principles of electrochemistry. Connecting an iron pipe to a magnesium block with a wire creates an electrochemical cell. The magnesium block acts as the anode and the iron pipe acts as the cathode. A diagram of this system is shown below.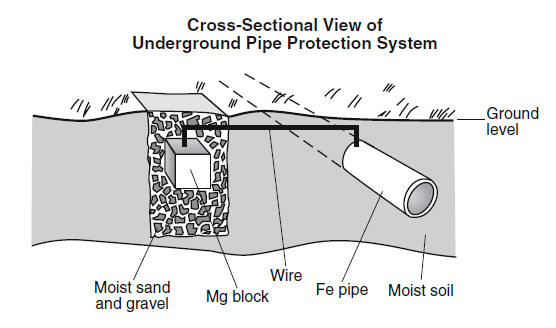 67 State the direction of the flow of electrons between the electrodes in this cell. [1]
HIGHLIGHT TO SEE THE ANSWER
Electrons flow from the magnesium block to the iron pipe.
Electrons flow from the Mg to the Fe through the wire.
Electrons flow from the anode to the cathode in a voltaic cell.
from the block to the pipe
(USE TABLE J e- flow from top to bottom of the table)
68 Explain, in terms of reactivity, why magnesium is preferred over zinc to protect underground iron pipes. Your response must include both magnesium and zinc. [1]
HIGHLIGHT TO SEE THE ANSWER
Mg is higher on Table J
Mg is more active than Zn.
Magnesium atoms lose electrons more easily than zinc atoms.
Mg oxidizes more readily than Zn.