John Dalton. an early scientist, sketched the structure of compounds using his own symbols for the elements known at the time. Dalton's symbols for four elements and his drawing of potassium aluminum sulfate are represented by the diagram below.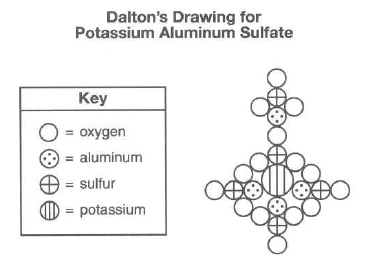 Today, it is known that the chemical formula for potassium aluminum sulfate is KAl(SO4)2•12H2O. It is a hydrated compound because water molecules are included within its crystal structure. There are 12 moles of H2O for every 1 mole of KAl(SO4)2. The compound contains two different positive ions. The gram-formula mass of KAl(SO4)2•12H2O is 474 grams per mole.
66 Identify one positive ion in the hydrated compound. Your response must include both the chemical symbol and charge of the ion. [1]
Highlight box to reveal answer
67 Describe, in terms of composition, one way in which Dalton's perception of potassium aluminum sulfate differs from what is known today about the compound. [1]
Highlight box to reveal answer
No hydrogen in the drawing or
formula has 2 sulfurs but he drew 5 or
drawing has more Al than the formula or
there is no water...plus some more
68 Show a numerical setup for calculating the percent composition by mass of water in
KAl(SO4)2•12H2O. [1]
Highlight box to reveal answer
(12 (18)/474) x 100% or
(216/474) x100%