Before atomic numbers were known, Mendeleev developed a classification system for the 63 elements known in 1872, using oxide formulas and atomic masses. He used an R in the oxide formulas to represent any element in each group. The atomic mass was listed in parentheses after the symbol of each element. A modified version of Mendeleev's classification system is shown in the table below.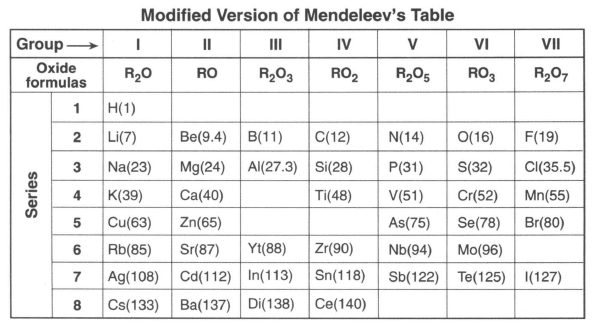 66 Identify one characteristic used by Mendeleev to develop his classification system of the elements. [1]
Highlight box to reveal answer
increasing atomic mass
atomic mass
oxide formulas
(it was in the first sentence)
67 Based on Mendeleev's oxide formula, what is the number of electrons lost by each atom of the elements in Group III? [1]
Highlight box to reveal answer
68 Based on Table
J ,
identify the
least
active metal listed in Group I on Mendeleev's table. [1]
Highlight box to reveal answer
Silver or Ag
(you had to look at the bottom of table J and look at group 1 in the question)
69 Explain, in terms of chemical reactivity, why the elements in Group 18 on the modern Periodic Table were not identified by Mendeleev at that time. [1]
Highlight box to reveal answer
Since the Group

18 elements tend not to react with other elements, there were no oxide compounds for Mendeleev to study.

Group

18 elements are generally unreactive.