In a laboratory apparatus, a sample of lead(II) oxide reacts with hydrogen gas at high temperature. The products of this reaction are liquid lead and water vapor. As the reaction proceeds, water vapor and excess hydrogen gas leave the glass tube. The diagram and balanced equation below represent this reaction.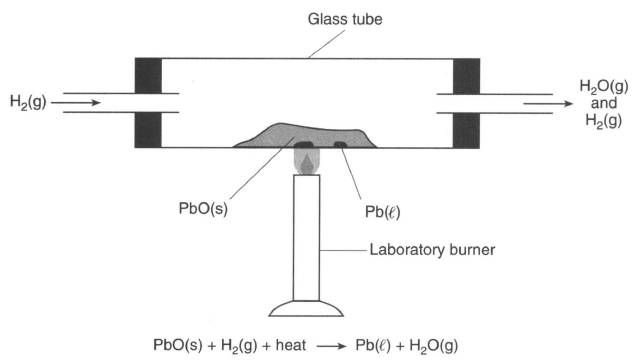 70 Determine the change in oxidation number for the hydrogen that reacts. [1]
Highlight box to reveal answer
71 Write a balanced half-reaction equation for the reduction of the Pb
2
+
ions in this reaction. [1]
Highlight box to reveal answer
72 Explain why the reaction that occurs in this glass tube can not reach equilibrium. [1]
Highlight box to reveal answer
The glass tube is not a closed system.
Gases are entering and leaving the system.
The reaction is reversible under these conditions.
73 State one change in reaction conditions, other than adding a catalyst, that would cause the rate of this reaction to increase. [1]
Highlight box to reveal answer
Increase the temperature.

Increase the concentration of the hydrogen gas in the tube.

Grind the metal oxide to increase its

surface area.
on to
Questions 74-77