Base your answers to questions 54 and 56 on the information below and on your knowledge of chemistry.
Three elements, represented by D, E, and , are located in Period . Some properties of these elements are listed in the table below. A students experimental result indicates that the density of element is 2.10g/cm3 at room temperature and standard pressure.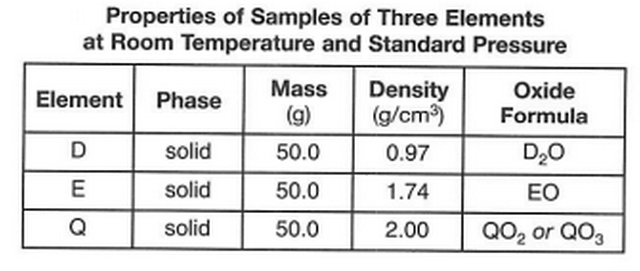 54 Identify the physical property in the table that could be used to differentiate the samples of the three elements from each other. [1]
55 Identify the group on the Periodic Table to which element D belongs. [1]
Answer--> Group 1 (also acceptable alkali metals)
56 Determine the percent error between the students experimental density and the accepted density of element . [1]
Answer--> 5.0%

work not required %error =((2.10-2.00)/2.00) x 100%
on to Questions 57-59