Base your answers to questions 57 and 59 on the information below and on your knowledge of chemistry.
The equation below represents an equilibrium system of SO2(g), O2(g), and SO3(g). The reaction can be catalyzed by vanadium or platinum.
2SO2(g)+ O2(g) <--> 2SO3(g) + Energy
57 Compare the rates of the forward and reverse reactions at equilibrium.[1]
Answer--> Rates are equal (the same)
Wrong answer ==>rates are constant
58 State how the equilibrium shifts when
SO3(g)
is removed from the system. [1]
Answer--> shift right (towards the products)
59 A potential energy diagram for the forward reaction is shown in your answer booklet. On this diagram, draw a dashed line to show how the potential energy changes when the reaction occurs by the catalyzed pathway. [1]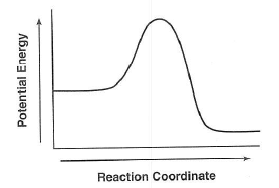 Questions 60-61