Base your answers to questions 83 through 85 on the information below and on your knowledge of chemistry.
A small digital clock can be powered by a battery made from two potatoes and some household materials. The "potato clock" battery consists of two cells connected in a way to produce enough electricity to allow the clock to operate. In each cell, zinc atoms react to form zinc ions. Hydrogen ions from the phosphoric acid in the potatoes react to form hydrogen gas. The labeled diagram and balanced ionic equation below shows the reaction, the materials, necessary to make a "potato clock" battery.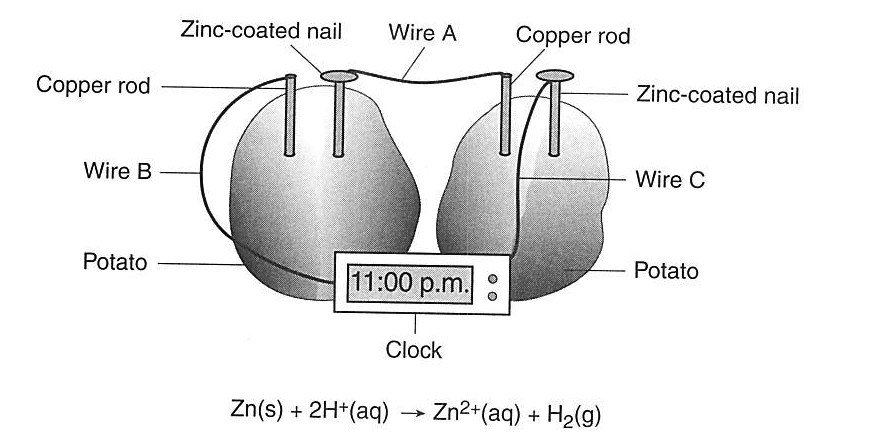 83 State the direct of the electron flow in wire A as the two cells operate.[1]
Answer--> From the Zn to the Cu.....Right
84 Write the balanced half reaction for the oxidation that occurs in the "potato clock"[1]
Answer--> Zn==> Zn2+ + 2e-
85 Explain why phosphoric acid is needed for the battery to operate. [1]
Answer--> from reading...Hydrogen ions from the phosphoric acid in the potatoes react to form hydrogen gas.

Also to provide H+

acts as a salt bridge...allows ions to move
Conversion Table June 2015
| | |
| --- | --- |
| raw score (out of 85) | scale score (your grade) |
| 79 | 90 |
| 75 | 85 |
| 70 | 80 |
| 50 | 65 |