Base your answers to questions 66 through 69 on the information below and on your knowledge of chemistry.
The Bohr model of the atom was developed in the early part of the twentieth century. A diagram of the Bohr model for one atom, in the ground state, of a specific element is shown below. The nucleus of this atom contains 4 protons and 5 neutrons.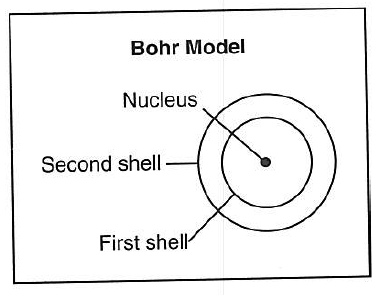 66 State the atomic number and the mass number of this element. [1]
Answer--> Atomic Number =4 Mass number= 9
67 State the number of electrons in each shell in this atom in the ground state.
Answer-->
First shell=2
Second shell= 2
68 Using the Bohr model, describe the changes in electron energy and electron location when an atom changes from the ground state to an excited state.
Answer-->
Change in electron energy= Increases
Change in Electron Location= higher energy level (further away from the nucleus)
on to Questions 69-72