Base your answers to questions 56 and 59 on the information below and on your knowledge of chemistry.
The equation below represents a reaction between propene and hydrogen bromide.

C
yclopropane, an isomer of propene, has a boiling point of –33ºC at standard pressure and is represented by the formula below.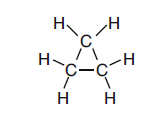 56 Explain why this reaction can be classified as a synthesis reaction. [1]
Answer-->One compound is formed from two compounds.
57 Identify the class of organic compounds to which the product of this reaction belongs. [1]
58 Explain, in terms of molecular formulas and structural formulas, why cyclopropane is an isomer of propene. [1]
Answer--> same formula, different structure
59 Convert the boiling point of cyclopropane at standard pressure to kelvins. [1]
on to Questions 60-61