Base your answers to questions 70 through 73 on the information below and on your knowledge of chemistry.
In an investigation, aqueous solutions are prepared by completely dissolving a different amount of NaCl(s) in each of four beakers containing 100.00 grams of H2O(ℓ) at room temperature. Each solution is heated and the temperature at which boiling occurred is measured. The data are recorded in the table below.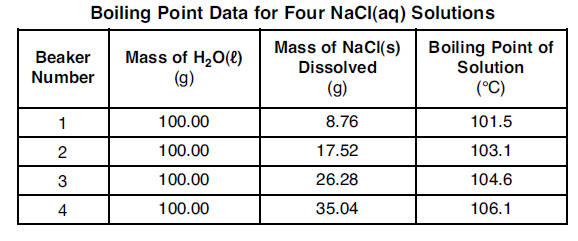 70 Identify the solute and the solvent used in this investigation. [1]
Answer-->Solute: NaCl, Solvent: H2O
71 Show a numerical setup for calculating the percent by mass of NaCl in the solution in beaker 4. [1]
72 Explain, in terms of ions, why the ability to conduct an electric current is greater for the solution in beaker 4 than for the solution in beaker 1. [1]
Answer--> There are more ions in beaker 4. Higher concentration of ions in beaker 4.
73 State the relationship between the concentration of ions and the boiling point for these solutions. [1]
Answer--> The greater the concentration of ions, the higher the boiling point of the solution.
on to Questions 74-76