Base your answers to questions 64 through 65 on the information below and on your knowledge of chemistry.
Nuclear fission reactions can produce different radioisotopes. One of these radioisotopes is Te-137, which has a half-life of 2.5 seconds. The diagram below represents one of the many nuclear fission reactions.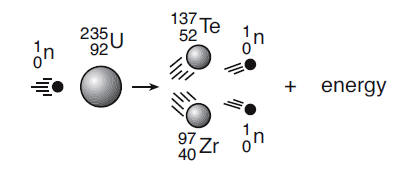 64 State evidence that this nuclear reaction represents transmutation. [1]
Answer--> Different elements are formed.
65 Complete the nuclear equation in your answer booklet for the beta decay of Zr-97, by writing an isotopic notation for the missing product. [1]

on to
Questions 66-69