Base your answers to questions 54 to 55 on the information below.
The diagram below represents a cylinder with a movable piston. The cylinder contains 1.0 liter of oxygen gas at STP. The movable piston in the cylinder is pushed downward at constant temperature until the volume of O2(g) is 0.50 liter.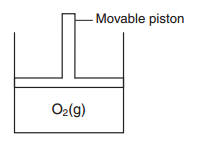 54 Determine the new pressure of O2(g) in the cylinder, in atmospheres. [1]
55 State the effect on the frequency of gas molecule collisions when the movable piston is pushed farther downward into the cylinder. [1]

Answer==>increased frequency of collisions