The diagrams below represent ball-and-stick models of two molecules. In a ball-and-stick model, each ball represents an atom, and the sticks between balls represent chemical bonds.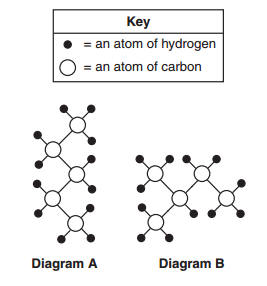 59 Draw a Lewis electron-dot diagram for an atom of the element present in all organic compounds. [1]
60 Explain, in terms of carbon-carbon bonds, why the hydrocarbon represented in diagram B is saturated. [1]
Answer==>All single bonds
61 Explain why the molecules in diagrams A and B are isomers of each other. [1]

Answer==>same molecular formula, but have different structural formulas
on to Questions 62-63