Base your answers to questions 79 through 81 on the information below.

Copper can be used for water pipes in homes. When the pipes corrode, copper atoms oxidize to form Cu2+ ions in the water. A homeowner has a water quality report prepared for a sample of water taken from pipes in the home. According to the report, the 550.-gram sample contains 6.75 x 104 gram of dissolved Cu2+ ions.

79 Using the key in your answer booklet, draw two water molecules in the box, showing the orientation of each water molecule toward the Cu2+ion. [1]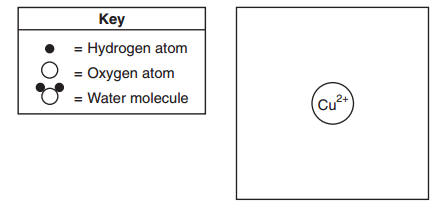 80 Show a numerical setup for calculating the concentration, in parts per million, of dissolved Cu2+ ions in the sample of water tested. [1]
Answer--> (6.75 X 10-4g / 5.50 x 102g) x 1,000,000
81 Write a balanced half-reaction equation for the corrosion that forms the Cu2 ions. [1]
Answer--> Cu--> Cu2+ + 2e-