The bright-line spectra for three elements and a mixture of elements are shown below.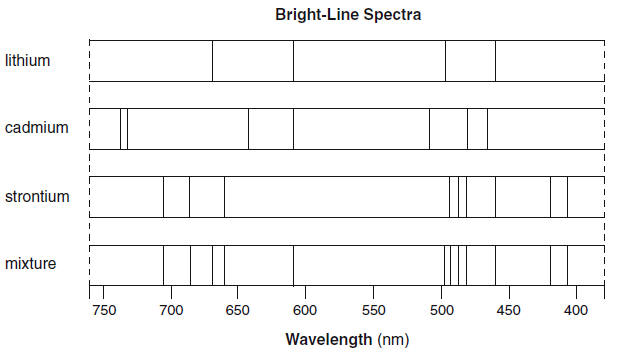 52. Explain, in terms of both electrons and energy, how the bright-line spectrum of an element is produced. [1]
HIGHLIGHT TO SEE THE ANSWER
excited electrons fall to lower energy levels releasing energy as spectra
energy is emitted when an electron falls back to lower shells
53. Identify all the elements in the mixture. [1]
HIGHLIGHT TO SEE THE ANSWER
lithium and strontium
Li and Sr
54. State the total number of valence electrons in a cadmium atom in the ground state. [1]
HIGHLIGHT TO SEE THE ANSWER
2 valence electrons in Cd
Cd electron configuration 2-8-18-18-2