A student prepared two mixtures, each in a labeled beaker. Enough water at 20.°C was used to make 100 milliliters of each mixture.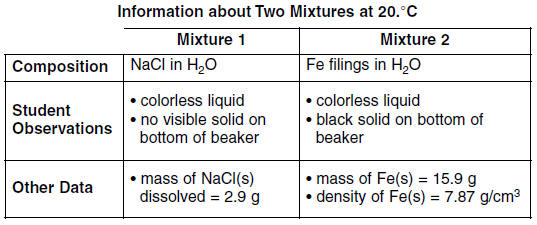 74. Classify each mixture using the term "homogeneous" or the term "heterogeneous." [1]
HIGHLIGHT TO SEE THE ANSWER
mixture 1=homogeneous
mixture 2=heterogeneous
75. Determine the volume of the Fe filings used to produce mixture 2. [1]
HIGHLIGHT TO SEE THE ANSWER
Answer=2.02cm3
v=d x m= 7.87g/cm3(15.9g)
76. Describe a procedure to physically remove the water from mixture 1. [1]
HIGHLIGHT TO SEE THE ANSWER
heat the mixture until all the water evaporates
allow the water to evaporate
distill the mixture
reverse osmosis